Best Repair Services with Garage Door 4 Less in Los Angeles
If you live in the great area of California, and have a garage door installed in your house, there are some facts you need to know in order to keep your garage door intact. So, when you find yourself in need for
garage door repair services in Los Angeles
, it is important to choose the right kind of service provider that will know the geographic area and its characteristics to ensure long term usability and durability.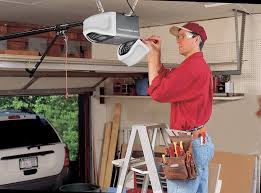 Climate Conditions
Los Angeles is a beautiful city that has great weather, hot sun and clear sky. But, when it comes to garage doors, it can be quite difficult to maintain them on your own, without the proper and professional care of a certified service provider.
Since garage doors are made out of electronic and mechanical parts and mechanisms, you'd be better off using the knowledge and experience of those who are trained to handle these doors. What characterizes a good Los Angeles garage door repair service? Well, first of all, using the right kind of chemicals and materials. How do we mean? Los Angeles is really hot and humid, as it is close to the ocean and subjected to salty breezes which arrive from the shore. These are very important elements that influence the form and stability of garage doors, as the parts can twist and shift due to the massive heat outside. Moreover, the salty air can cause noticeable corrosion, which damages the hinges and hampers the door's proper movement.
Suitable LA Service
A suitable garage door repair in Los Angeles is also measured by the tools and equipment the technicians have. A reliable service provider will arrive with the tools that would enable them to carefully unhinge and then put back together the specific part that requires attention, such as the lifting mechanism, the engine, or the cable box which usually houses the main components of the door.
Not only that, but the repair technician must also use the right kind of relieving spray and add oil which is meant to allow the door its proper movement after it got stuck by an accumulation of mold or dust.
Keeping the appearance of the garage door is also a major parameter, as it is a part of the decoration of the house and not only a functional piece of machinery.