Super Simple Tips for Garage Door Repair

Garage doors are supposed to run for long without any maintenance. However, a little maintenance can double their longevity. Just a bit of care every now and then can help you save a lot of money in the long run. With the right care, you can keep your garage door working like new for years.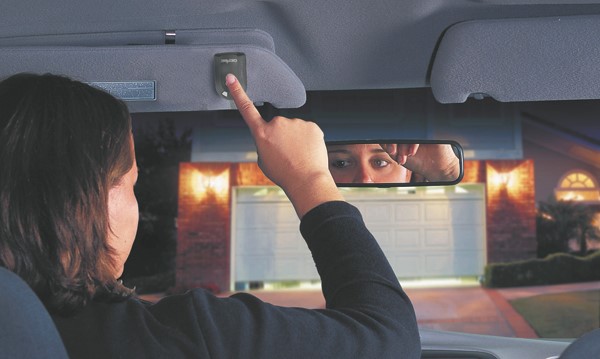 Garages serve an important purpose – they keep your car safe from thieves as well as from elements. However, garage doors wear and tear over time. If you maintain them well, they will warp, won't lock, or get stuck while opening. And garage door repair can get expensive. Save some money with these tips. Here we will discuss some common problems and how to resolve the issues.
Power Failure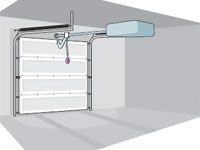 If your garage is closed and the power is out, how will you get the car out? Look for a cord – it will usually have a red handle and will be dangling from the track. This track is the same one that's used by the opener to open/close the door. When you find the cord, pull it. It will allow you to open/close the door without any power. This is called the manual override.
Frozen door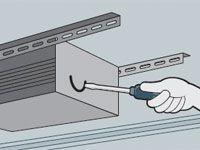 When it's cold outside, there are chances for the door opener to get frozen stiff and stuck. New garage doors have a mechanism to adjust the pressure. You can increase or decrease the pressure to adjust the door according to the seasons.
Sagging door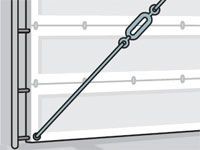 As the garage door starts to sag, it gets harder to open. This generally happens with older wooden models. With time, they get heavy and are prone to gravity. If the doors have become saggy, you can use tension rods to prop them up. Place the rods diagonally across the corners and tighten them using a turnbuckle. As you tighten them, the door will become straight. And if your door doesn't have tension rods, it's easy to buy them – they're available online and at local stores.
Garage door won't lock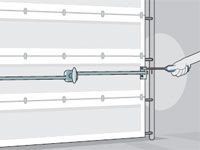 Your car might be parked in the garage but it's not truly secure unless the door is locked. If your garage door isn't getting locked on its own, you can do it manually. Garage doors generally have 2 horizontal bars that start from the middle of the door and go all the way up to slots on the side. Over the years, these bars may get misaligned so they might not fit correctly in the slots.
You'll need to align them again. Begin by unscrewing the brackets on the sides of the door. Once they are loose and can move a bit, align them with the rod position so that they can lock effectively. And once they are aligned, screw them tight again and lubricate the mechanism.

Oil stain on driveway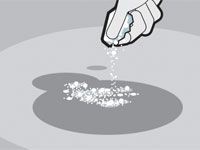 Once you work up your car, you might notice an oil stain on your driveway. Find a waste piece of drywall. You can find it at a home construction site. Pulverize it with a hammer and crumble it and sprinkle it on the stain. Let it soak overnight and then rinse it the next morning. If the stain is stubborn, sprinkle some more drywall and rub with a hard brush.
Time to call the experts?
Many
garage door repairs
can be done on your own. However, if there's a chance of serious injury, make sure you leave it to the pros. For example, torsion springs can be dangerous and it's best not to work with them unless you have enough experience, aptitude, and the right tools. If you're not quite sure how to work with them, call the experts.
Have more question? Please feel free to contact us with any question you may have – 888-341-7199