Something as simple as a new garage door can work wonders for the curb appeal of your home and increase its value in just a few hours. A
residential garage door
takes about 4-6 hours in installation and you can easily notice the way it transforms the looks of your home in that time.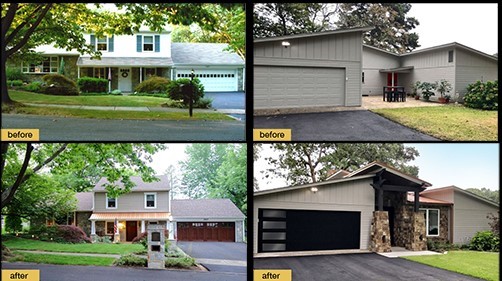 First impressions matter!
Curb appeal acts as the first impression of your home. When someone looks at your house from the outside, what they see is its curb appeal. This term is generally used by brokers and real estate agents when they sell a home. The exterior appearance of the home makes a huge impact on the buyer's decision. The exterior looks of your home can make or break the impression.

There are several factors that play an important role in the curb appeal. For example, the external paint, door, lawn, plants and other things all combine to create that look. The one thing that catches the attention of buyers is the garage door. With a new garage door, you don't just get a functional entryway to park your car, but you also add energy, efficiency, style, and security to your house. A garage door makes sure that the curb appeal of your home is maximized and more value is added to it.

Making it look impressive
Whether you're planning to sell your home or want to live in it, it's important to make sure that it looks good. Take a note of the message that your home sends to its visitors. If you think your home doesn't look impressive, its curb appeal is where you need to start.

The IDA conducted an online survey and found that almost 71% of all homeowners who recently got a new garage door feel that it has helped them increase their home value. Keeping in mind the prices of houses in Greater Vancouver, a good curb appeal can translate into a great ROI. There are several neighbourhoods in Vancouver that have almost identical looks. All homes are built with similar style and having a stylish garage door is a unique way to stand out and get the desired attention. All you need to do is select the right type of garage door that goes well with your taste and home exteriors.

Garage doors- transforming ordinary to extraordinary
The garage door takes about 30% of the façade in most homes and is the most perceptible architectural feature of a house. Many people design homes in such a way that the garage is visible from a distance across the street. If your garage holds multiple cars, you cannot ignore something as important as a garage door. It's not feasible to ignore something that makes up almost 30% of your curb appeal. You don't want it to look plain and ordinary when you can easily get a unique door within hours. A small investment on a garage door can last for decades and become a great return on investment.

As advised by most designers, builders, and architects, before you select a garage door, you must keep in mind the style of your home. The new door must go well with the house architecture. For example, if you have a contemporary home, a carriage-house type garage door would look totally out of place with it. Another thing to consider is that whether you want the garage door to act like a major style feature or seamlessly blend with the home exteriors. If you're finding it difficult to make a decision, talk to us at Garage Doors and Gates 4 Less. Our specialists can help you choose the right door according to your home design and neighbourhood.

So many choices
Talk to us about our garage door offerings and you'll be surprised and impressed with the number of designs and styles we have. Our garage doors are fitted with the latest accessories from wrought iron hardware to beautiful glass windows. And it's really easy to customize a particular design according to your specifications.

We make sure that the colour of our garage door complements the colour of your home – down to the fine specifics such as the window trim colour and material. We have different designs to offer and some of them are available in only specific colours. Make sure you discuss the colour options with us before ordering. We can also redesign the window styles on our garage doors to match the window styles of your home.

Different styles
Many clients ask us about our carriage house style doors as they are the latest trend these days. These doors look very stylish and can be made of steel or wood. They have three-sections and give a very lovely appeal to the garage doors. While they look like conventional doors and give a very classic aura, they are not expensive and come with all the high-tech functionality.

We offer garage doors in different materials such as steel, aluminum, anodized aluminum, glass, and wood. Steel doors generally require less maintenance and are less expensive. We have a number of wood options and they can be painted and stained. Glass doors look beautiful and can be clear, tinted, obscured, or stained. A glass door gives the illusion that it's a pretty wall of windows. Whatever material you choose, the frames are available in a variety of colours.

The sky's the limit
Garage doors come in such a wide variety that the only thing limiting the choice is your imagination. We can provide you some before and after pictures of homes and you can see how the looks of a home can change after getting a new garage door installed. We have doors in all kinds of budgets to suit your needs. We also have some hi-tech doors at surprisingly low rates.

To get a different and great curb appeal, you need a correctly installed garage door. When it's installed by a professional, it will not take more than a few hours and will make your home look unique. However, make sure you contact the right company for this job. At Garage Doors and Gates 4 Less, we have skilled engineers who will take measurements, design doors, and then install them quickly and efficiently.

Once we design a door, it will only take about 4-6 hours to install it on the location. After that, all you have to do is regularly clean the door and garage and make sure it's free of clutter. Our doors are low-maintenance and don't require hard work to keep them safe from the elements.

Contact us for a free quotation on all types of installation services.