Looking to buy new garage door but not sure where to start?
Most of us not
buying garage door
very often, so we like to give you few tips how to approach the process and to avoid the unknown.
1. How much is new garage door cost?
Each house has character, so emphasize it with immaculate garage door. Do you like a classic appear or you looking for something more modern, or maybe countrified? "Deciding your house's style will help centre on your options."
Once you choose the look you're like, evaluate these garage door styles and see what fits in your budget:
Aluminium garage door - Rust-resistant aluminium is ideal for humid, caustic environments. Replace solid panels with glass panels for a contemporary look. The price range for 16' x 7" two car garage: $3,500 to $5,000. Depending on the type of
glass and aluminium finish
.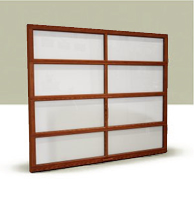 Metal garage door: Metal doors offer range of color, insulation, and price options. You can fined anything from basic level, non-insulated door up to a premium three-layers steel back, 2-inch insulated door. Price range for size 16' x 7' two cars garage door: $695 - $3,500.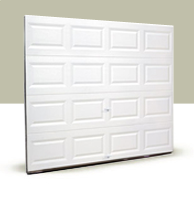 Wooden garage door: There's no substitution for the distinctive look of wood. Most popular wood use to
build wooden garage door
is Cedar, Hem Fir, Mahogany and cypress, Wood is easy for custom designs. Depending on climate and exposure, wood doors require more maintenance. Price range for size 16' x 7' two cars garage door: $2,000 - $6,000.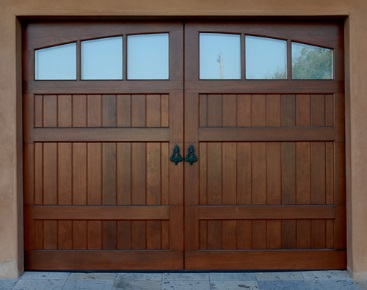 Faux wood garage door:
Faux wood garage doors
integrate the beauty and texture of natural wood with the energy efficiency of an insulated steel door, durable, low-maintenance. It's moisture-resistant, so it won't rot, split, shrink, separate or crack. Price range for size 16' x 7' two cars garage door: $900 - $7,500.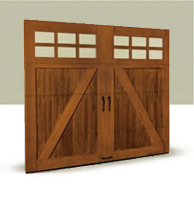 When choosing a new garage door, take into account coordinating with the entry door for comprehensive cohesive look.
2. Do I Need Insulated garage door?
Insulation garage door will impacts your home's energy efficiency and security. There is several insulation rates available from R-3 up to R-18.

If your garage is attached to the house it's highly recommended to install an insulated garage door, especially if there's room above the garage. It will help reduce both noise and the utility bills.
Another think to consider is the direction your door faces. If it's baking in the sun all day or getting exposed to the wind, an insulated garage door will do better modulate the temperature inside and hauled stronger against the wind.
3. Safety factor for garage door
If you live in hurricane zone, high wind or fire zone, make sure your new garage door is design for this elements. Do to of their size, garage doors are more susceptible to wind damage than other exterior openings.
4. Other important thing you need to know before buying a garage door
First time garage door buyers here are some common misconceptions:
• Garage door opener is a separate purchase it is not included in the price of a new garage door. However garage doors dealers companies can sell and install it. Consult with your dealer witch it's the best garage door openers for your door.
• Interested in carriage house style garage doors, but not sure if you have the room for doors that swing open? No worry! Carriage-house style doors only have the appearance like they swing open. They actually roll up and down on track like standard overhead garage door.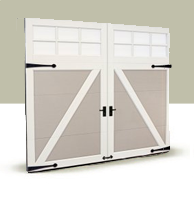 • Ask if the cost of the garage door includes installation. Professional garage door installation is as important as the product. Check the contractor state licence and insurance and research before hiring a company.
I hoop you fined the article helpful, if you have any question or comment, I live to hear it.
Send me an email:
al@garagedoor4less.com